| | |
| --- | --- |
| Workbook Library | |
Welcome to the VIHA Implementation Workbook Library. On this page, you will find links to many resources that can assist you with your implementation. These resources include: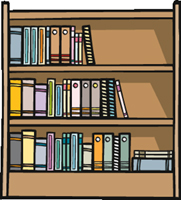 Readings - the suggested readings may include
recommendations from other implementation
manuals, articles, journals or websites.


Contacts - the contacts will put you in touch with
individuals in VIHA who can help you.


Worksheets - the worksheets and templates
provide an easy format for specific work
documents or items so you don't have to

"reinvent the wheel."


Important Note: Recall that the "open-book" icon is used throughout the workbook to indicate a resource in this library.

File Formats
In the matrix below, you will notice that the format each resource is available in is indicated with a link in that column. Some of the resources are available in more than one format. Select the format that will be most useful to you.
Important Note: these files can be saved to your hard drive for future use!
If you are not able to view a file, it may be because you do not have the appropriate software on your machine. To view:
Word - requires Microsoft Word;


Excel - requires Microsoft Excel


PDF - requires Adobe Acrobat Reader
Important Note: Once you click on a file format, you are leaving the workbook. To return to the workbook, use the "back" arrow in your browser navigation.
Saving a File to Your Local Computer
If you wish to download a file to your machine follow these steps:
Place your cursor over the file format you require;


Right click with your mouse;


Select "Save Target As";


Click "Save"
Resource Files
Professional Practice Office (PPO) Documents

Resource
Word
PDF

Assessing Implementation Readiness

--

File

Bibliography

--

File

Blank Program Logic Model

File

--

Checklist of Initiating a Task Group

File
File

Organizational Development & Leadership

--

File

Dissemination of Standard Information

--

File

Issues and Questions to Consider when Developing an Evaluation Plan

--

File

List of Relevant Websites

--

File

Logic Model Accountability

--

File

Navigating the Organization - VIHA Resource List

--

File

Options for a Final Report - Evaluation

--

File

Overview Checklist for VIHA Implementation Projects

File
File

PPO Stewardship Agreement

File
File

Proposal for Change

File
File

Sample for End Users Process and Structure Evaluation

File

--

Supporting Documentation for Standard Implementation

--

File
Registered Nurses Association of Ontario (RNAO) Documents

Resource
Word
PDF

Action Plan Template

File
File

Budget Worksheet

File
File

Budget Template (In an MS Excel Spreadsheet)

Excel

--

Environmental Readiness Assessment Worksheet

File
File

Indicator Identification

File
File

Sample Budget

--

File

Stakeholder Assessment Tool

File
File
Centre of Excellence in Learning (CEL) Documents

Resource
Word
PDF

Developing a Learning Plan

File
File

Strategic Communication During Change

File
File